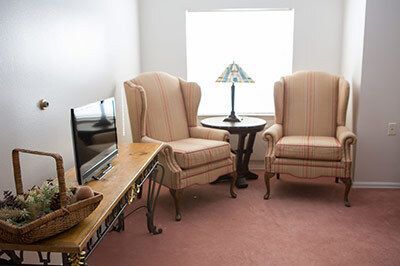 **Respite Care at The Haven is currently unavailable. Please check back for future availability.**
Respite Care
The Haven is proud to offer a Respite program for adults who need temporary assisted living care. Respite provides assistance to caregivers and families caring for an adult loved one, enabling them to travel or take personal time, worry free. Respite can also be a good option for individuals needing interim care between independent living and skilled nursing care.
Vivien Card Memorial Respite Room
The Vivien Card Memorial Respite Room is a fully furnished room that includes all the regular benefits of The Haven Assisted Living, including three meals per day, housekeeping, medic emergency alert system, exercise program and activities.
The room is offered at a cost of $161 per day for a private room. Medication administration assistance and medical appointment transportation is available for an additional fee.
Respite services are contingent on room availability. All facility prerequisites apply (see Residency Standards). However, the 55 or older age restriction does not apply in the respite room.
For more information about Respite at The Haven, please contact Director Adrienne Idsal at 970-875-1888 or aidsal@northwestcoloradohealth.org.