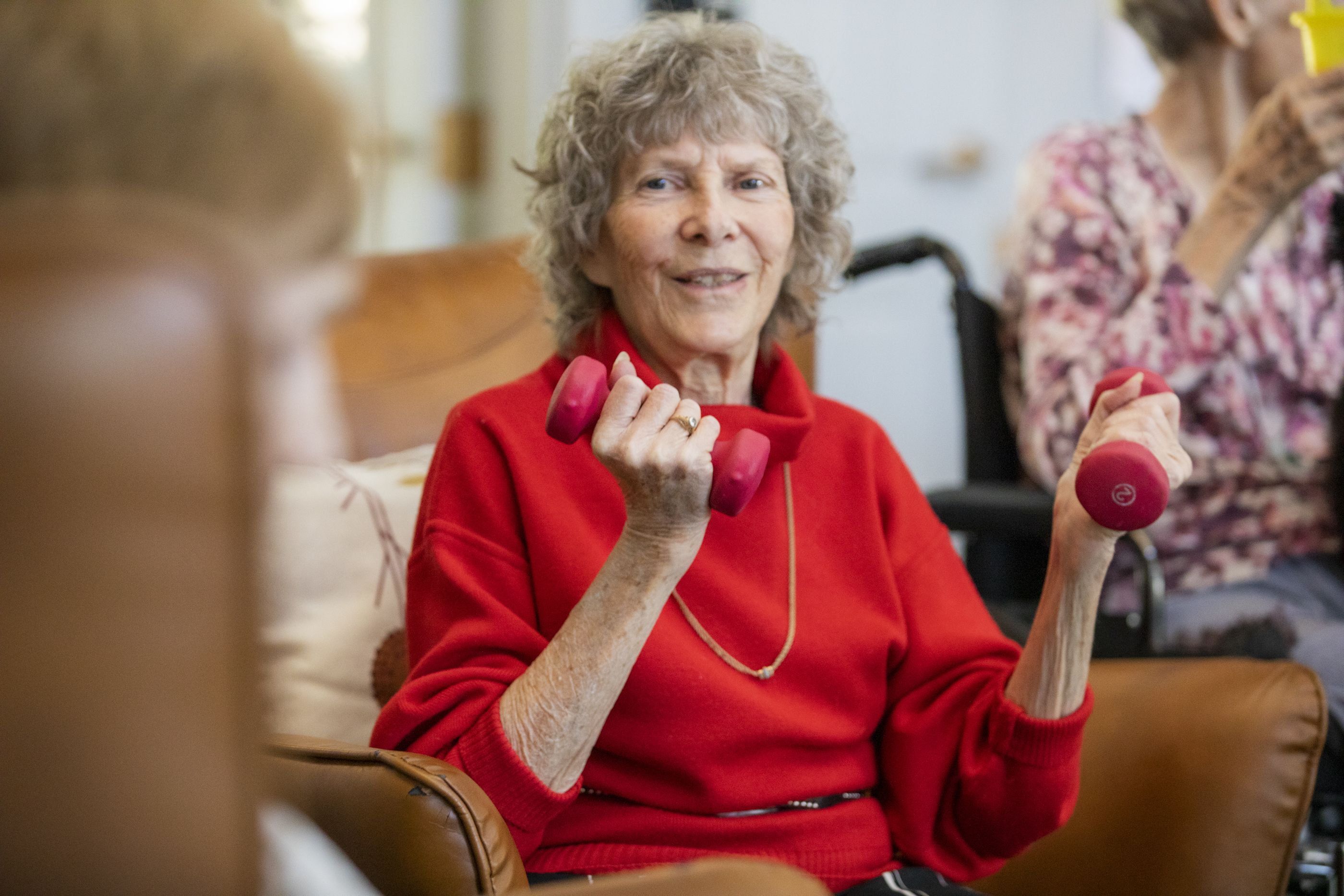 As a prospective resident, you might be wondering what a typical day at The Haven might look like. It is important to remember that if you live at The Haven this is your home and you are free to live each day exactly as you please. Our friendly caregivers are here 24/7 if you need assistance in the morning or want to be woken up – and if you are a late riser, then we would not dare disturb your sleep!
Breakfast is served from 7:00-8:15am and is made to order whenever you make it down to the dining room. Eggs your way, bacon, toast, oatmeal, pancakes, biscuits and gravy, your choice of juice, and fresh coffee are among the offerings available to you each morning. If you come after 8:15am then you can have continental breakfast such as yogurt, oatmeal, fresh fruit, toast, etc.
We have a different chair exercise classes offered every morning in our living room around 10:00am. If you do not need chair exercises then you are welcome to stand for more of a challenge. Offerings include Qi-gong, chair yoga, dance, Zumba, fall prevention strategies, etc.
In between exercise and lunch, residents will often sit out on our patio enjoying the beautiful view or lounge in our reading nook drinking coffee and chatting or reading.
Lunch is served at 12:00pm and is our biggest meal of the day. We are known for having high quality home cooked meals with a great variety offered. Many of our residents come from longtime ranching backgrounds so we try to balance their taste for meat and potato-type meals with a variety of other options. We serve anything from chicken parmesan to chicken fried steak to turkey glazed meatballs to ribs and everything in between - every meal comes with fresh fruits and vegetables, a salad, ice water, and your choice of lemonade, iced tea, coffee, juice etc. If you prefer something like apple sauce or yogurt each day we can certainly accommodate this. And of course, with lunchtime being our biggest meal, we have a homemade dessert to go along with your meal as well!
In the afternoon we have a wide array of activities to offer – some favorites include bingo, corn hole, sewing club, seasonal arts and crafts, poker, piano sing-alongs, etc. And if you have a specific interest or hobby you would like to share we always love that! Once a month we will go on a field trip to a different location such as museums, Steamboat Lake, concerts, sporting events, etc. Your family members are welcome to join us for any field trips too!
Family and friends are strongly encouraged to visit you at The Haven as much as possible –they can even join you for a guest meal free of charge. We just ask that they call in advance if they are joining you for a meal so we know how much to cook. We love when family and community members just stop by, have a cup of coffee, play games, and become a part of everyday life here at The Haven.
Every evening before dinnertime we have a social hour with appetizers and drinks – sometimes volunteers will come in and present or residents will play trivia or watch a movie together. Dinner is served at 6:00pm and is a lighter meal – soups, salads, sandwiches, casseroles, etc. Each resident gets a weekly menu and if there is ever something you do not want just let the cook know in advance and they can make you your choice of sandwich as an alternative.
As a resident of The Haven, you are free to come and go as you please. We have wonderful walking paths all around our campus – and in the wintertime we have cross-country ski tracks plowed around our building. If you like to take longer walks or go for bike rides, The Haven is adjacent to a quiet neighborhood and you can get plenty of miles in within town. We just ask that you let a staff member know if you are leaving the building so they are aware.
We hope you come for a tour and get to experience this special place for yourself. It would be our honor to get to care for you and be where you call home someday.